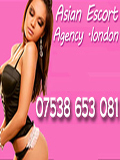 About the agency:
I am proud to announce a new escort agency in the name of Asian Escort Agency London. They will have the best girls in London that will serve its clients with passion, desire and commitment. Nothing will be too much in the quest for perfection and satisfaction.
We will have the best looking Asian and Oriental girls in London, so take a tour of the gallery to see which one you would love to spend some time with. They can be either in-call or out-call so you have the best of both worlds.
If you are a visitor to London and feel lonely by yourself then why not arrange one of our girls to take you out for a dinner, a theatre show or just a drink before being wowed in the bedroom.
If there is something you have always wanted to do but have been shy to ask then you have come to the right place, because our girls have been trained to serve and make YOUR time with us the best as possible. Whatever your desire, they will be met with skill.
We have a wide variety of escorts from teenagers to over thirties but they will serve you in the same way, with passion and dedication. Your satisfaction is their concern so do not worry about the escorts thinking about themselves first.
Escorts added by this agency